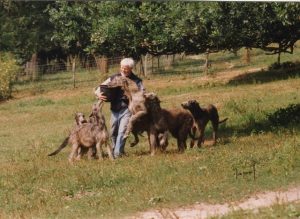 Jürgen Rösner-Papenfuss fra kennel Oehlmühle er dommeren du kan glede deg til å møte på jubileumsshowet 1. juni. Klikk videre og les dommerpresentasjonen!
Presentasjon av årets Open Show dommer: Jürgen Rösner-Papenfuss
«Deerhounds were love on first sight with many complications for me. When my late partner Jürgen Papenfuss and me saw one of these most heavenly creatures at an open show in England, in the 1970s, the breed was so rare – we could not find a breeder, or any information beyond a book title. Still the image of this Deerhound stayed with us. But we soon found ourselves breeding Irish Wolfhounds – one of these circumstances in life that are inexplicable.
A few years after our first encounter, however, Miss Anastasia Noble`s Ch. Zamora of Ardkinglas found its way to us. She did not come alone though, but was joined by her son Shamrock Cormac. Initially we had no plans to pursue breeding these beautiful dogs, but soon this changed.
Throughout our long time in breeding, we were fortunate enough to raise some amazing dogs. Many champions both in Germany and internationally can base their pedigrees back to the Oelmuehle. Character, health and soundness are of utmost importance to us, but also beauty, that natural grace, that transforms a lazy hairy monster into the most elegant and truly royal hound one can imagine. Our aim was to breed a line that excelled both as companions and in the ring, and I hope we were successful in both fields.
It is important to mention that we never tried to walk the road alone, but always worked with many friends around the world, for the benefit of the breed. Our latest cooperation with our friends of many years at Kilbourne, let to two world champions last year – Kilbourne Kaine to Oelmuehle and Kilbourne Oh Sweet Lorraine.
As a judge I was able to visit many shows, nationally and internationally. Trips to the United States and Australia, but also closer to home in France, Scandinavia and eastern Europe were always a great joy for me and the basis of many long lasting friendships.
For more than 40 years I have been breeding Deerhounds now, and was able to meet new and interesting people, travel around the world and of course spend my days surrounded by my dogs – an end is not in sight.»
Jürgen Rösner-Papenfuss