It is such a great privilege to be invited to judge in Norway and I am very much looking forward to it. Thank you very much for the opportunity. With my Mum, Claire, I have been involved with Scottish Deerhounds since the late 1980's. Our first Deerhound pup was bred from a Shenval stud dog and our foundation bitch, Ardkinglas Pattie, arrived in 1990.
We bred our first litter in 1993 and from then have bred and / or owned a number of lovely dogs. My all time favourite was Ch Drawing Down the Moon to Cusidh. She won Best of Breed twice at Crufts and the Bitch Challenge Certificate three times. She was also the Best in Show winner at the 2011 UK Deerhound Club Breed Show and at the 2006 UK Deerhound Club Limited Show. She was a pleasure to own and was always very co-operative and physically able – my once in a lifetime dog. She died in 2015 aged 10 years. In addition to showing Scottish Deerhounds I have enjoyed running with them in CaniX events and attending lure coursing meetings. I have also competed in Agility and Obedience with my Lurchers and believe it or not as a child my first dog was a Cairn Terrier.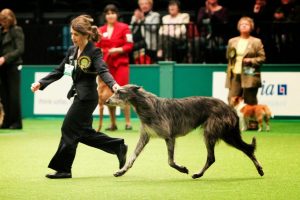 I started judging Scottish Deerhounds in 2007 and now award Challenge Certificates in the UK. I have also been very fortunate to be asked to judge outside the UK in Finland and Switzerland and the dogs outside of the UK are excellent. Indeed, I have noted an increasing depth in quality and number of hounds. I am now expanding my judging experience within the Hound group and have enjoyed judging Irish Wolfhounds and Greyhounds right through to Petit Basset Griffon Vendeen dogs. However, Scottish Deerhounds will always remain my favourite!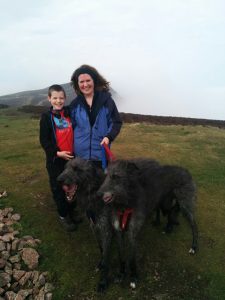 My enjoyment of Scottish Deerhounds comes from watching them run. I love their physical power and strength and my favourite aspect of being with them is when I can take them out running with me or when I am watching them running together in play or lure coursing. When judging, I ideally look for a dog representing the standard with power and substance that I perceive can physically function and move well and is balanced, sound and unexaggerated.
Outside of Deerhounds I am a chemist by training. My career has included working both in academia as Professor of Water Technology at Cranfield University and now in Scottish Water as their Chief Scientist. I live with my partner Rob and my son Lachlan near Edinbugh, Scotland and the Cusidh hounds live both with us and my Mum, Claire, in Fife, Scotland.
Elise Cartmell